About us
4 years, 10 months ago
We are the online flower concierge for all your needs. With more than 30 years of experience in the flower industry, Fresh-o-Fair offers a platform that gives you the opportunity to find the freshest and most beautiful flowers directly from sustainable and socially conscious farms in Latin America to your doorstep. Our clients can choose from over 20 flower farms with 100% transparency in what they are getting and what they are paying for to ensure a fair price. Worried about logistics, claims, payments, and even personalized orders? look no further, at Fresh-o-Fair you will get what you need with 24/7 personalized consultation to meet all your flower needs.
Why us?
BECAUSE WE OFFER 100% PRICE TRANSPARENCY
Choose from over 20 South American farms, compare prices and pay what is fair! We have direct contact with the best Latin American farms that are experts in exporting flowers and we are constantly visiting the farms personally to ensure you are getting the best quality and the freshest flowers. Find offers, compare prices and pick what suits you best all in one place: Fresh-o-Fair.
BECAUSE YOU DON'T NEED TO WORRY ABOUT ANYTHING, WE WILL DO IT FOR YOU, SERIOUSLY.
Buy easily at any time directly on the platform. We take care of the rest. We want you to focus on what's important: YOUR CREATIVITY!


BECAUSE WE ONLY WORK WITH ENVIRONMENTAL & SOCIAL CONSCIOUS FARMS
Striving for a better environment runs through our veins and we only work with farms that resonate with our own values.
We ship directly, reduce the use of plastic and improve packaging. We want to create a more conscious industry by taking action to reduce waste, we optimize resources and the floral creative obtains fresher cut flowers.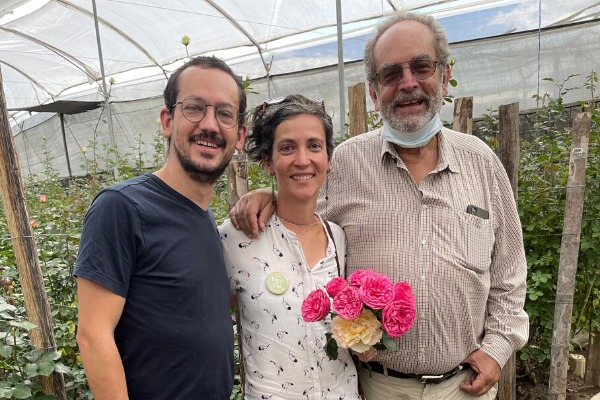 How was the idea born?
Growing up in Ecuador, it is normal to encounter cut flowers of excellent quality and great variety. When we started an import business in Germany, we recognized some weaknesses and opportunities that we turned into our strengths.
Thanks to our long-standing business relationships for over 30 years with flower growers in Latin America and our experience selling flowers in Europe and the US, we have recognized how we can improve the industry by providing 100% price transparency, digitalization, excellence in service, and quality products.
As a family-owned business, we decided to develop a flower concierge approach that acts as an intermediary between the flower farm and flower creatives around the world. Our service consists of connecting them both and taking care of everything around logistics and payments for our clients.
Our name originates from the words Fresh, Online and Fair: Fresh because our product comes directly from the Farms; O for Online, meaning you can easily order our products anytime; and Fair as a floriculture trade fair, and also for Fair, as in fair price to all players. The result: Fresh cut flowers, online trade, through fair e-commerce, simply put Fresh-o-Fair.com
We aim to support sustainable and socially conscious farms from Ecuador and other Latin American countries providing fairness in price, labor, and transparency so you can get the best quality product and our farmers can get a fair payment for their hard work.
Why only digital?
So far, the flower business is not a digital business, but the global trend is quickly heading that way. Through our system, it is now possible to obtain fresh flowers shipped directly from the flower farm that arrive in original packaging that comply with environmental guidelines.
This also means, of course, that the flowers purchased through the Fresh-o-Fair system are freshly cut and that the flower farms have selected the best flowers for our customers. We want to change the market, and make it more sustainable and fair! Each farm is unique, from the geographical location to the flower varieties it produces.
So, be prepared to get fresher and more sustainable flowers from our Latin American flower farms. We look forward to your business and your comments!!
---
---