FAQs
1) Orders
1.1) How do I order?
Go to the catalogue.
Find the products you want.
Choose your desired box size (½, ¼, or ⅛ box), the stem length, and the farm.
Put them in your shopping cart. Now go to your cart and enter your shipping and billing information.
Choose the payment method.
You can now review your order before buying.
Click on the "Buy" button.
You will receive an order confirmation e-mail, your invoice will be attached to this email.
1.2) I would like to remove, change, replace a product
To make a change in your purchase, you must contact us within 24 hours of placing your order at info@fresh-o-fair.com. We will find the best solution for your requirement and help you to adjust your order.
1.3) Can I cancel my order?
Yes, you can cancel your order within 24 hours of it being placed by contacting us at info@fresh-o-fair.com. *Restrictions apply.
1.4) What happens if I receive the wrong products?
This should not happen, but if you have received anything other than the products you have ordered, please send us a photo and a brief description at info@fresh-o-fair.com within 24 hours of receiving the order. You will then receive a full refund or delivery of the correct products.
1.5) What is a standing order?
Standing orders are regular weekly orders in agreement with the farm or farms of your choice for the whole season with a fixed price. Get in contact with us if you are interested in a standing order and we will help you to set up one.
2) Payment
2.1) How do I pay?
We accept the following payment methods: Credit Card, SEPA direct debit, or Paypal. Fresh-o Fair works together with Stripe for payments via credit card and SEPA direct debit. Stripe is an online payment service. The company's services are offered in 25 countries. Stripe uses a self-learning fraud prevention system. Via Stripe, Fresh-o-Fair receives a one-time payment from the customer, both via credit cards and SEPA direct debit.
2.2) My payment was declined. What should I do?
This is a problem directly from your bank. Please contact your card provider to resolve this issue.
3) Delivery
3.1) How does overnight delivery work?
There are times when we have products available for overnight delivery. Your flowers will be delivered the next day as long as you order before 3pm. This does not apply to orders placed on Sunday.
3.2) Where can you deliver?
We deliver to any address on the mainland of Germany. We can also deliver to any address on the Spanish mainland and in the United Kingdom, France, Italy, Austria, Belgium, Switzerland, Cyprus, Denmark, Greece, Croatia, Lithuania, Luxemburg, Holland, and Sweden. If you need an extra-peninsular delivery contact us at info@fresh-o-fair.com and we will do our best to open our logistic network for you.
At the moment it is not possible to send flowers to islands such as the North Frisian Islands, the Balearic Islands, or the Canary Islands.
3.3) When will my delivery arrive?
Currently, flowers fly once a week. Your order will be packed on Friday, and delivered on Wednesday. If you order on Saturday, it will take 10 business days. However, if you order on Thursday, it will only take 4 business days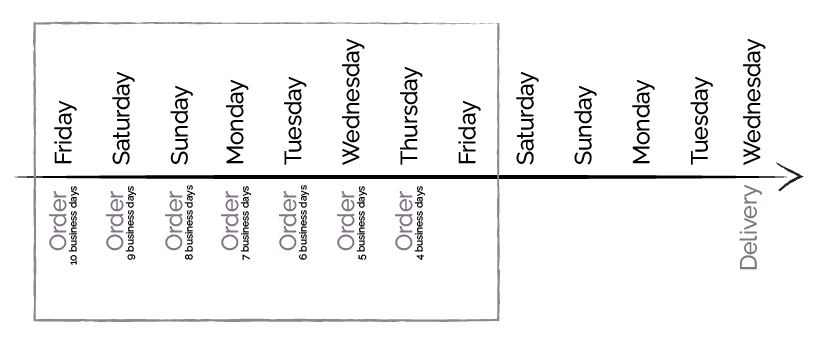 3.4) What time can I expect my delivery?
GO will be with you between 9:00 am and 12:00 am.
3.5) What if nobody is there to accept the delivery?
If there is no one to receive the shipment GO will take it and try to deliver it the next day.
3.6) Can I have my delivery on the weekend?
At present we do not offer this service.
3.7) Payment and Delivery Details
We accept the following payment methods: Credit card, SEPA direct debit, or Paypal.
The delivery day will be indicated in the confirmation email when placing the order.
More information here
3.8) How are the products delivered?
Your orders will arrive at the address you have indicated in your order with a courier service.
3.9) What are the advantages of an airport pick up?
If you pick up your flowers at the airport directly after they go through customs, you will pay for the value of the flower only and save on costs.
3.10) Is it possible to deliver to other EU countries?
4) Customer service
4.1) I cannot log in, what should I do?
Click on: "I forgot my password", then enter your e-mail address. We will send you an e-mail with a link to reset your password.
4.2) I put the wrong address on my order
Please contact us within 24 hours of your order's arrival at info@fresh-o-fair.com with the correct delivery address.
4.3) My bill has an error, what should I do?
Your invoice will be automatically generated with the information you provided at the time of purchase. If an error occurs, please contact us at info@fresh-o-fair.com with details of the error.
4.4) I have a complaint, what should I do?
If you wish to write a complaint about an order you have received, please go to your order history and fill out the complaint form by accessing the respective button next to the order within 24 hours of receipt of the order.
4.5) Is my data protected?
Yes, we take this very seriously and do all we can to protect your data. If you want more information about privacy, please click on the following link: Privacy Policy
4.6) I am not a wholesaler, nor a floral creative
Our services and the direct supply from the Southamerican farms are exclusively for professionals of the floral and cut flower industry.