The online flower concierge for all your needs
Our services and the direct supply of Southamerican cut flowers are exclusively for professionals of the floral industry.
We are the online flower concierge for all your needs. With more than 30 years of experience in the flower industry, Fresh-o-Fair offers a platform that gives you the opportunity to find the freshest and most beautiful flowers directly from sustainable and socially conscious farms in Latin America to your doorstep.
Our clients can choose from over 20 flower farms with 100% transparency in what they are getting and what they are paying for to ensure a fair price.
About us
What they say about us
I am SO GLAD I discovered Fresh-o-Fair. Working with Claudia has been absolutely AMAZING. She is kind, supportive, and easy to communicate with. If there is something I can't find, she takes the time to help me find it. And the quality of the flowers are just SUPERB!!!! Awesome flowers. Awesome service!!
Ray Barrett / Radleigh + Sage Event Company
The flowers are of indescribable quality. Very grateful for your spectacular service!
Ro Garcia / Flowers by Ro
Ever since first discovering them in the midst of 2020, Fresh-o-Fair has been a game changer for us! During a time when product has been very difficult to source, Claudia has managed to come through each time with beautiful options for us to share with our clients! We have even managed to custom order and custom create products. Fresh-o-Fair has truly up-leveled our business and we are just getting started. Thank you!
Alyssa Van Guilder / Apotheca Flowers
Claudia goes above and beyond! I love how easy she is to work with. It makes ordering a breeze.
Stephanie Thiel / Pretty Flowers LLC
Claudia has been amazing to work with. I had some last minute request and she worked with me every step of the way.
Danielle Casseus / The Flower Note
I like to buy from Fresh-o-Fair!!! The nice contact, the good selection and especially the super quality convinced!
Blumen Nowak
We look forward to the delivery of the roses every week!
Flor & Decor
Long lasting flowers and fabulous customer service. Thank you Claudia for making things so easy!
Stephanie Thiel / Pretty flowers LLC
This is my first order from Fresh-o-Fair, and I'm SO pleased! The roses arrived on time and were in excellent condtion. They were SO FRESH and the quality is outstanding. Looking forward to ordering from them again.
Alluring Blooms
My first time using Fresh-o-Fair and I can definitely say it won't be my last. My salesperson Claudia was very responsive and did a great job helping me feel confident with placing my order. When my order arrived the flowers were in amazing condition and a super quality. Overall I was very happy and impressed with Fresh-o-Fair!
Barb Connolly / Bonnie Hill Farm
Flower of the week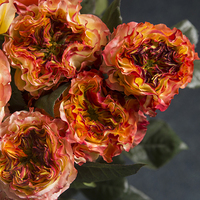 FUEGO
Fuego, a garden rose from South America. The tones of its petals resemble those of a burning flame. A bicoloured rose with yellow and orange tones. Its head is about 3 inches wide. It is vintage, rustic and, of course, romantic.
Liven up your designs with Fuego, the warmth of its contrast will delight you.
Be the first to hear the news!
Subscribe our newsletter and receive current information about us and our products.
Subscribe now
---
Sustainability has been a focal point in floriculture recently. Learn more about Ecuador's Zero Carbon program and its impact on floriculture here.
Read More...
Read all Blogs...